Looking for an HP scanner that easily creates searchable pdf files and sends these files where you want them to go?
Want consultation and quality support for this document management tool? You've come to the right place.
When you want to convert printed documents to something you can store on your computer, when you want a scanner sender, you want Digital Senders.
Buy a new machine
Buy a refurbished model
Lease a new or refurbished model
Repair a digital sender you own
Consult and problem solve with our experts
DigitalSenders.com is dedicated to providing easy conversion from printed paper (hard copy) to computer files via digital senders. Our Montana-based, down-to-earth specialists are experts.
Contact us now, or take a few minutes to browse our user-friendly site and learn
What a digital sender is and how it works
Why an HP digital sender will help your business
How Digital Senders adds extra value for your money
How to compare the features of the HP 9100c, 9200c and 9250c
Whether new or refurbished, buying or leasing is best for you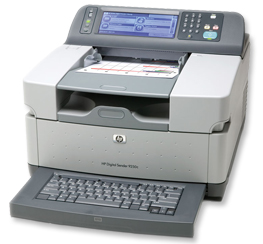 9100c | 9200c | 9250c
Digital Senders offers three HP digital sender models
Whether you purchase or lease a new or used machine, we also offer general consultation, repair and guaranteed service.